CALL NOW 818-242-0022
to learn what Armet Alarm & Electronics, Inc. can offer you to protect your business.
Put an end to your worries with Armet Alarm & Electronics, Inc.
Safeguard your business with our world-class business burglary alarms and security cameras — available without the expensive price tag. Let our highly-trained security agents look after your business security system 24/7. No job is too big or too small, and we will customize a security solution based on your requirements. Whether you want to protect your office, factory, or retail location, we can help.
Armet Alarm & Electronics, Inc. has a long and distinguished track record of providing burglary alarm services to companies. We are committed to providing commercial customers with the most effective and most advanced protection solutions and 24/7 monitoring at UL Certified Central Monitoring Station. Our state-of-the-art commercial alarm systems keep our commercial customers on the cutting edge of security solutions.
It goes without saying that security systems reduce crime in commercial settings. Businesses without alarm systems are 4.5 times more likely to be burglarized than those that have one. Of all uncompleted burglaries, 74% can be credited to an audible alarm. Our professional technicians always assess the risk as the first step of any burglary alarm system installation, since this will fundamentally affect the type of the equipment used and the way it is installed. Our staff is professional, knowledgeable and experienced, so that clients can rely upon a dependable and consistent standard of service we provide.
We've spent years working with businesses to understand the issues that concern business owners the most, e.g. theft, intrusion, vandalism, fire, medical emergency, gas build-up, water leak. Armet Alarm & Electronics, Inc. has developed solutions to address your everyday problems effectively and affordably.
Our expertise extends to all industries that we service, assuring you that your facilities, employees and assets will be as safe and secure as possible.
We monitor your security system around the clock with our 24/7 monitoring service.
Protect your business and prevent break-ins with the latest security camera systems which boast loads of features.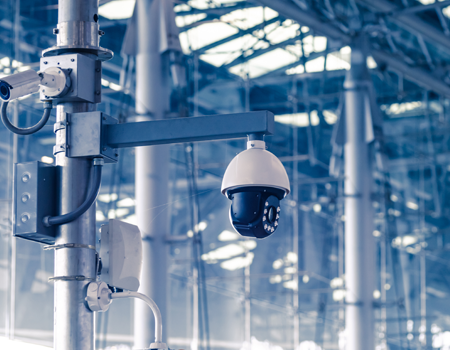 Portfolio